An Automated & Integrated Electronic Quality Management System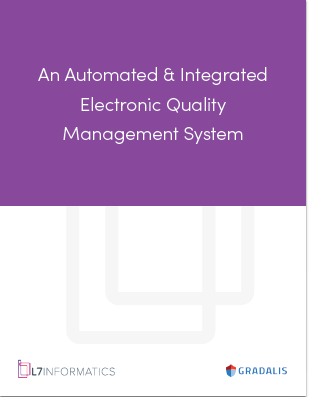 Precision medicine and new classes of immunotherapy treatments, including cell and gene therapies, require a new category of companion informatics that automates and synchronize complex manufacturing, quality management, and treatment processes.

By connecting to disparate software systems, lab instrumentation, sequencing machines, and process equipment, L7's Enterprise Science Platform (ESP) provides end-to-end process automation, real-time data capture, needle-to-needle chain-of-identity, actionable dashboards, and reports. ESP platform provides an integrated NGS LIMS, bio-informatics processing, AI/ML integration, sample management, inventory management, freezer management, quality management, and electronic batch records all within a regulatory compliant platform (cGMP, GAMP, CAP/CLIA, HIPAA).

This white paper will provide a first-hand look at how Gradalis, a clinical-stage immuno-oncology cell therapy company, is using the ESP platform from L7 to streamline its research, clinical, and manufacturing operations. It will showcase L7's ESP's implementation at Gradalis, where manual batch records and paper-based quality management with manual calculations are being replaced with the ESP automation platform.


Complete the form to the right to download your copy of the white paper now!