As mentioned in our previous blog post, Stop Managing Your Instruments and Software Platforms Independently, scientific

labs are resorting to using a variety of manual methods for data management and collation. As a result, labs often experience poor record keeping regarding the "who, what, when, where, and how" of experiments, effectively making management of data provenance not just inefficient, but a rather difficult, if not impossible, task. The issue becomes even more critical as new data-rich technologies are finding their way into regulated laboratory environments, with the primary example being the broader use of next-generation sequencing (NGS) in clinical labs.

"Data generated by laboratories are used to make strategic decisions for all types of projects (investigation, remediation, compliance, etc.). It is important that the data are of the highest quality to avoid costly resampling and budget overruns. A laboratory audit ensures that the laboratory has quality systems in place, follows good laboratory practices, and generates data of integrity and quality." (Arch Pathol Lab Med. 2015;139:481–493; doi: 10.5858/ arpa.2014-0250-CP)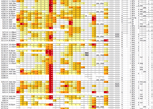 These rigorous requirements are a challenge to maintain using a collection of ad hoc tools. With traditional LIMS solutions you can make strides towards gaining efficiency with your sample and data provenance, but you aren't going to make your whole process more seamless and efficient. However, with Lab7's Enterprise Science Platform (ESP), everything gets tracked in a single location, including the full provenance of sequencing data, from wet lab to instruments to quality control, as well as mapping pipelines and experiment-specific analyses. Scientists have full access to the provenance chain and all the data associated with each step, enabling complex queries that allow them to fully explore their results with access to deep audit trails that satisfy all regulatory requirements.
Learn more about gaining efficiency in your lab by downloading our Five Strategies to Improve the Efficiency of Your Lab whitepaper.